Connecting Stakeholder Workflows with

PDF Reports



HoloBuilder PDF Reports enables you to generate well structured and professional field report PDFs of your construction documentation with the click of a button. Connect your HoloBuilder workflows with your stakeholder's offline workflows effortlessly.

Try out PDF Reports in the Web Editor today!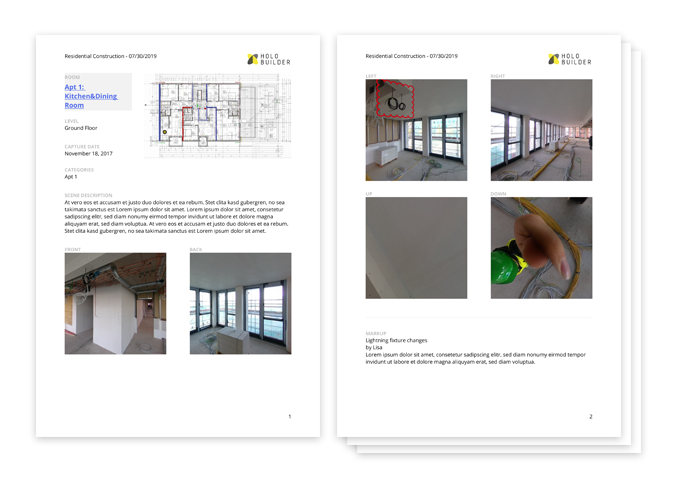 Professional PDF Reports Are Just a Click Away
Get a complete overview of your job sites with images from all angles: up, down, left, right, front & back. Details for the locations on the floor plan with their names and dates of capture are included. It also links back to your original 360° images and markup notes!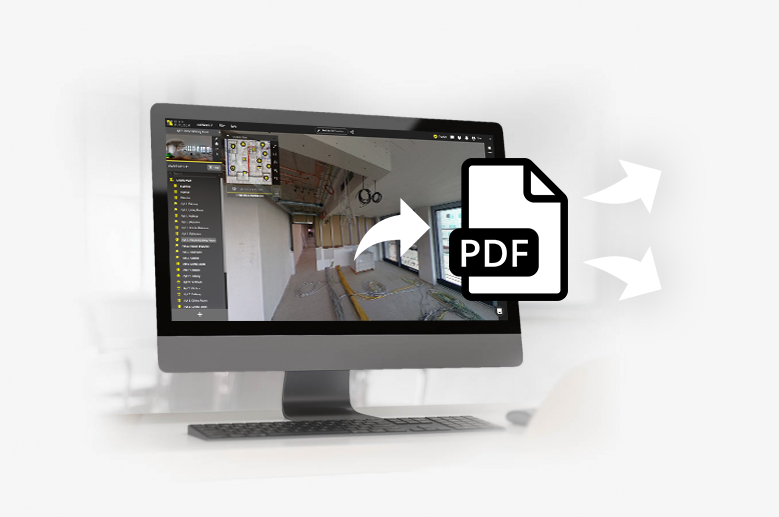 Connect Your Construction Workflows Effortlessly
Push the boundaries of digitalization: Professional and well-structured field reports bridge the knowledge-sharing gap between stakeholders. Deliver your 360° progress documentation in a format that your stakeholders already love and trust!
Break Down More Data Silos

No more spending of hours on converting your 360° images into 2D photos. Easily import images into other apps of your construction technology toolset (e.g. payment apps).
Learn in our tutorial how you can easily select a timeframe or set of categories that you want to submit to someone and get a clean, professional, and insightful report within seconds.
The new PDF Report benefits our project managers who would normally need to produce a weekly report with progress photos. The new export feature allows them to automatically produce a report that contains the weekly photos, which is a super-efficient workflow that further enhances the efficiency that HoloBuilder brings to the table.
Liam, Associate at ENR Top 10 General Contractor
Don't have access to the HoloBuilder Construction Progress Management Platform with PDF Reports yet?

Get your demo

today!
Copyright © 2021 HoloBuilder Inc.